Pop-up Stand & Display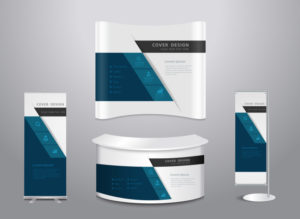 Pop-up stands are the most cost-effective and flexible tool for your advertising needs! Be it to catch the attention of customers at a roadshow, or to simply promote and raise awareness of your latest products, pop-up stands can be reused for a variety of different events and purposes! 
I'm sure most of us have seen businesses advertising their products with the use of giant banners hanging over shopping malls or trade exhibitions as indoor and outdoor displays. However, though this traditional advertising tool may be extremely effective and relatively inexpensive, they are not the most use-friendly of items. Banners are not only bulky and troublesome to transport, but they are highly susceptible to wear and tear too. Banners also call for a number of people at a time to set up, often requiring extra tools such as ropes, pins, or metal rings to anchor down the entire display. 
This is why businesses nowadays are turning to the more modern and practical solution — pop-up stands! A pop-up stand works exactly the way its name suggests: it chiefly pops up whenever and wherever you want it to! Easy to set up and highly portable, BlackMrkt can provide you with pop-up stands equipped with display systems that include high quality and sturdy retractable frames and bars to hold up your backdrop. 
We're not talking about promotional channels such as TV, radio, or flyer advertisements that have a short shelf life and minimal success at converting prospects into customers. Our pop-up stands have longevity. They are affordable marketing tools that can be used over and over again to convey powerful messages that help you reach out to your target audience, achieving great advertorial value! It's definitely a worthy investment if you ask us! 
Also, unlike banners, entire displays featured on our pop-up stands will retract into its base! Our pop-up stands which come in either a curved or straight display frame are easy-to-store and compact, making it very feasible for you to keep it in a square hand carry case or shoulder bag. This means no folding, reducing the risk of potential tears or creases across your design. The compact means of which it may be transported also lowers the likelihood of it sustaining damage on its way to the location. They also do not have any complex set-up steps, as even the largest pop-up stands can be assembled in a matter of seconds! 
A pop-up display system gives you the flexibility to reuse it for your different events and roadshows. Our pop-up stands and display systems include high quality and sturdy retractable frames and bars to hold up your large backdrop. it is easy-to-use, requires minimal set up time, and is highly portable.
Pop-up stands are a great tool to maximise space and give customers a brief but impactful insight into the products and services that your business may offer! Generating awareness has never been this affordable. Contact BlackMrkt today to find out more about how our pop-up stands can help your business get its message across!